Father's Day is a great opportunity for manufacturers to utilize digital marketing techniques to promote their products. By adding some of these ideas into your marketing plan, you can reach your audience in more engaging and personal ways.
1. Send out a Father's Day Email Marketing Campaign
Email marketing is an effective way to reach your target audience. It allows you to personalize your messaging and target specific email list segments. Creating a company newsletter geared toward Father's Day (like the Kohler example) is a great way to remind your audience about the upcoming holiday and offer gift ideas on what to get. You can create wish lists, gift guides, or show a coupon code inside the email. Building product manufacturers can incorporate their products into the messaging. Sending out a newsletter keeps your business engaged with your leads and customers while increasing brand awareness and credibility.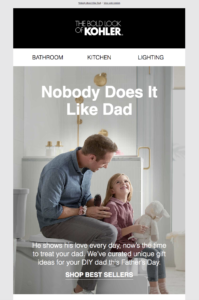 2. Write a Blog on Home, Yard, or DIY Project Ideas
Giving readers ideas for projects they may want to start around the house, or help their dad with– like in this blog, is a great way to feature your products. It allows the building product manufacturer to show the reader how they can use their products. You can also expand on the benefits of the products and showcase why dad would like them.
Pro Tip: Be sure to link directly to the product page so readers can find out more information.
3. Run a Contest on Social Media
Running a contest on social media is a great way to increase engagement and for you to receive user-generated content! Do people use your product for DIY projects? Ask for photos of a completed project they did while using your product. To tie it into Father's Day, have them share something they built with their dad. Give a prize to the most creative entry. This is a great way for people to demonstrate how they use or would use your products. Not interested in asking for photos? Consider adding some dad humor to your page. It can be as simple as asking your audience to comment their favorite "dad joke" on your post. The best joke wins!
4. Do Some Search Engine Optimization
Generally, when any holiday approaches, searches increase across social media platforms and Google. That means it's a great time to adjust some of your keywords to direct traffic to your website. Whether through blog/feature articles, landing pages, or in your copy on social media, using your targeted keywords throughout can improve your ranking. Partner with other companies to cross-promote and build links to your website. You can use tools like SEMrush and Google Keyword Planner to help your keyword research. You'll want to create highly shareable content leading up to Father's Day.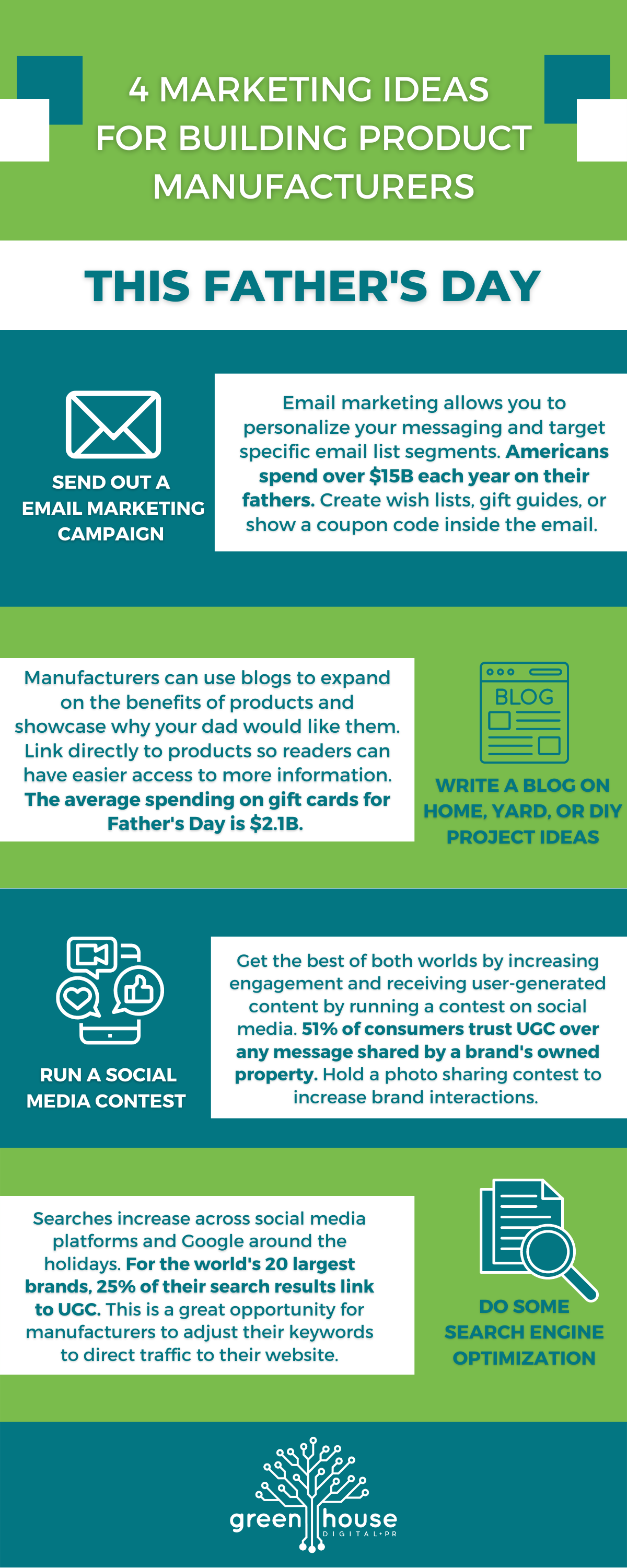 Contact us to learn more about how GreenHouse Digital Marketing + PR can help reach your Father's Day (and year-round) marketing goals!