What is Pinterest? How is it useful for building product manufacturers?
In comparison to social media apps like Instagram or Facebook, Pinterest is a visual discovery engine for finding ideas like recipes, home and style inspiration, and more. People can search through billions of pins and use those pins to create inspiration for projects.
Pinterest also allows users to share their boards with other users, making it easier for the collaboration of ideas. It is a highly organized virtual scrapbook at your fingertips.
Building product manufacturers can utilize Pinterest to their advantage because of how user-friendly the platform is, and the ability to target a specific audience depending on their business. Building product manufacturers can also drive up traffic to their websites by linking products.
Below are listed three ways building product manufacturers can use Pinterest for their marketing model.
Create a Pinterest Business Account
Just like other social media platforms, Pinterest allows businesses to create free business accounts to gain access to special content formats, custom analytics, and more. For building product manufacturers, Pinterest predicts that trending search terms for 'luxury laundry room ideas' will go up 11x. 'Luxury basement ideas', 'luxury gaming room,' and 'luxury kids' bedroom are also predicted to go up 2x.
431 million people use Pinterest every month, and the platform predicts trends from 2021 will continue to climb in 2022. There is no better time to take advantage of Pinterest and the resources they provide. Consumers will look to search for home inspiration that building product manufacturers can provide for them.
Shopping for products will also be made simple if your company sells online, with numerous shopping features built right into the platform. Users can see details like pricing, and save products to shopping lists or click to buy right away.
Inspiration Boards
85% of Pinterest users say Pinterest is where they go to start a new project. Pinterest can help building product manufacturers utilize automated targeting to help pick an audience based on details from a specific pin. There are different avenues a pin can take a potential consumer on Pinterest.
If building product manufacturers want users to visit their profile to view products, they should create inspiration boards in their profile. This makes it seem more natural, and less like listing products in a static way. People are drawn to Pinterest because of how image-focused it is. The more images and products in them, the better.
Pinterest business analytics can make it easier for a company to determine what content is working for them and what isn't. If more users are looking to install a product because of an inspiration board, have the marketing team input an additional graphic of such content as installation tips to bring in that interactive aspect that may be lacking in comparison to other social media sites.
Pinterest Ads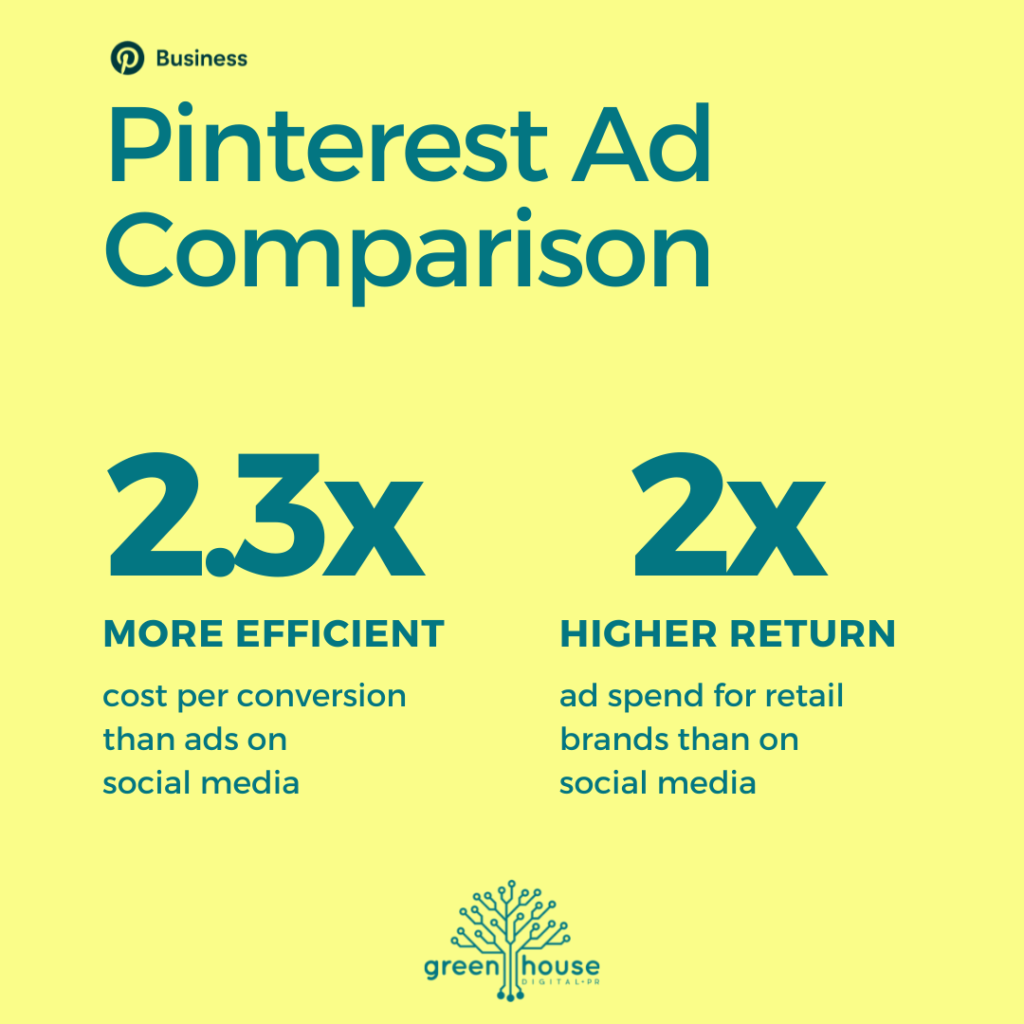 According to Pinterest Business, ads are 2.3x more efficient cost per conversion than ads on social media and have a 2x higher return on ad spend for retail brands than social media. The rate of return on advertising with Pinterest is higher than a typical Instagram or Facebook ad. This demonstrates the growth potential a building product manufacturer could have with utilizing Pinterest.
Building product manufacturers should look to make their ads as interactive as possible. The goal is to appeal to users to click on it so that it can lead them to a specific product or brand page. Think about using visual-first formats and what type of format fits best. Manufacturers can use standard, video, shopping, carousel, or collections formats. A shopping format leads users to a specific shopping page, a carousel format presents a slideshow of images, and a collections format displays multiple products in one image.
A collections format works best for building product manufacturers because it allows them to display multiple products or projects that are possible to users. Users can take the image and pin it to a board, which may lead to them exploring more options by a brand in the future.
Idea Pins
Building product manufacturers can use idea pins to share ideas with users. They are displayed in a multi-page canvas and last forever, which can help grow an audience. Videos are recommended for idea pins because they are great at telling a story while also connecting with your audience.
Use a visually appealing video for the first page of the idea pin to stand out in people's feeds. Add some text overlay with captions in case users don't view it with sound. Take advantage of idea pins by inserting your brand's personality into them. Share details and products that will lead the users to a company's page.
There is no clear-cut way to market on Pinterest. Each company and its products are different, so learning more about the different ways Pinterest allows building product manufacturers to market will prove to be successful in the long run.
Pinterest will continue to grow in 2022, so it is important to utilize this platform in a marketing plan in the building product manufacturing industry. Users will seek out inspiration and products to help build their dream home.
Creating a great marketing strategy for the building product manufacturing industry takes a team that is knowledgeable in marketing and confident working with the industry. If you are ready to start taking advantage of the benefits, GreenHouse Digital Marketing + PR can help! We understand the importance of being flexible to the marketing trends that construction and home industries require. Our team has the resources and experience to take your company's marketing strategy to the next level and deliver your desired results.