With technology taking over how we communicate and live our lives daily, it can also help improve job efficiency. User experience is the future wave when it comes to understanding products, especially in the construction and building industry. QR codes are becoming more popular than ever and can help manufacturers directly link important product information such as tutorials, how-to's, brochures for homeowners, etc.
During our last webinar with Conrad Szanja, General Contractor of Formed Space, he discussed the team's need to quickly access product information– video being the content they prefer. "We work with a lot of younger tradesmen because they're savvier when it comes to technology," says Conrad. Younger trades value video tutorials and instructions they can access at a dime on their smartphones.
Offering the answer via a quick scan from their phone can elevate the user's experience and provide instant, easy-to-navigate information. Delivering easy solutions for contractors and homeowners can be the difference between using one product over another.
From the manufacturer's perspective, it's important to note that each product, whether it's for a commercial, residential, or multi-family project, will likely have multiple installation guidelines, different troubleshooting material, videos, maintenance requirements, etc. Manufacturers can save contractors valuable time by having an individual scan a QR code and land on the exact product or resource instead of reading paper instructions or searching to find the answer.
"Sometimes we get products, and when we open the box, you see a bunch of papers flying around, and it always gets lost on job sites," explains Conrad. "But because our projects are so unique, we've come across some products that actually have QR codes or ways you can quickly use your phone to see install guides, which is very helpful."
How to start using QR Codes
Before you start attaching QR codes to your product materials, you'll need to choose the right type for what you are using it on. There are two different ways to create a code– static or dynamic.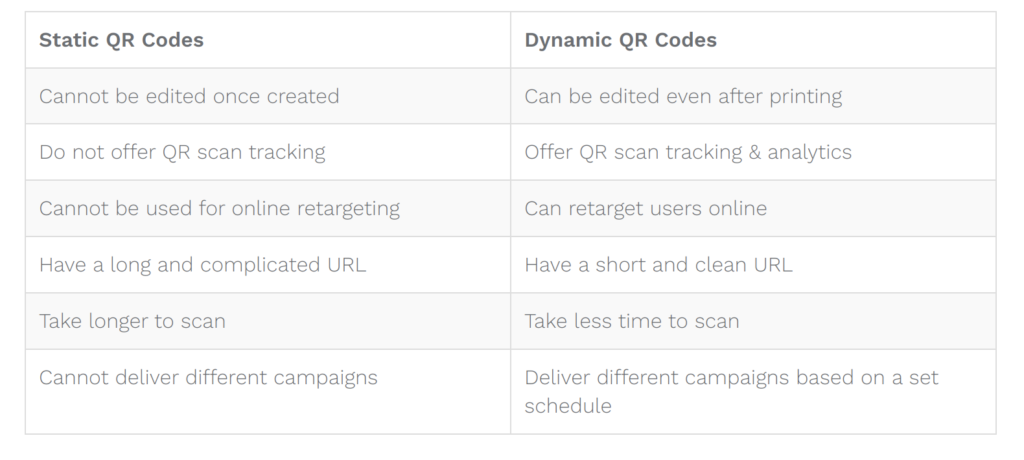 Static QR codes are free to create and use. However, you can not edit it once it's made; they are not trackable and cannot be used for online retargeting. We recommend using static codes for information that does not need to be changed or for a one-off campaign.
Dynamic QR codes are a bit more flexible but usually require payment. You can edit the content as much as you need, and in real-time, they are trackable, and they allow you to retarget people online (on Facebook and Google). We recommend using dynamic codes when you want to track data, edit an ongoing campaign, or even find out more about your customer.
Once you decide which type is right for your business, integrate it into your marketing strategy. QR codes are a great way to elevate your print materials and improve the user experience.
Some ways to maximize the use of a QR code would be by placing it directly on company brochures, user instructions, or product packaging. By scanning the code, the customer can be sent directly to the product specs, an instructional assembly video, or even an auto-filled email address where they can ask any questions.
The data you receive from a dynamic QR code can help you analyze and improve your company's marketing strategy. These improvements can lead to profitability and keep you at the technological forefront of your industry.
Watch the video below to see Conrad discuss his experience with QR codes. Keep following GreenHouse Digital + PR for more marketing and public relations best practices in the building supply and manufacturing industry!