There used to be a time when virtual events sounded somewhat futuristic. But with the rapidly changing communications landscape, more and more building-product manufacturers have pivoted to the digital realm. Whether it is to continue providing training to installer and contractor audiences or to introduce a new-product offering, the hope is to navigate the new normal by pushing digital strategies to the forefront.
But is your company really ready to host a virtual event? Have you thought about how you will drive attendees and make it worth the effort?
This article will share a number of useful strategies and tips. But before we dive in, let's talk about what a virtual event entails and the kinds of virtual events building-product manufacturers should host.
What is a virtual event?
According to Hootsuite, a virtual event is any organized meet-up that takes place online rather than in a physical location. These events can range from small, question-and-answer sessions to large-scale conferences with thousands of attendees.
Just think about the recent online Coverings Connected event. The largest international tile and stone exhibition and conference in North America announced a brand-new digital experience to provide attendees with digital access to learning opportunities via live webinars, tile and stone trends presentations, on-demand content, and an online showcase of Coverings tile and stone exhibitors from around the world.
Types of virtual events for building-product manufacturers
Training webinars
Continuing education courses
Behind-the-scenes tours of facilities
Product webinars
Live Q&As
How-to's and tutorials
New-product launch events
Tools to host virtual events:
Facebook live
Live Instagram story
Webinar tools, such as GoToWebinar and Zoom
Strategies and tips to promote your virtual event on social media
Timeline
Start promoting your event sooner rather than later, because your ad needs time to be reviewed and A/B-tested for the best results.
If you start promoting more than three months out, posting once or twice a month on your social channels is the best way to avoid exhausting your audience.
Fewer than three months out, three to four times per month.
Fewer than two months out, once a week.
Week of, post the day before and day of.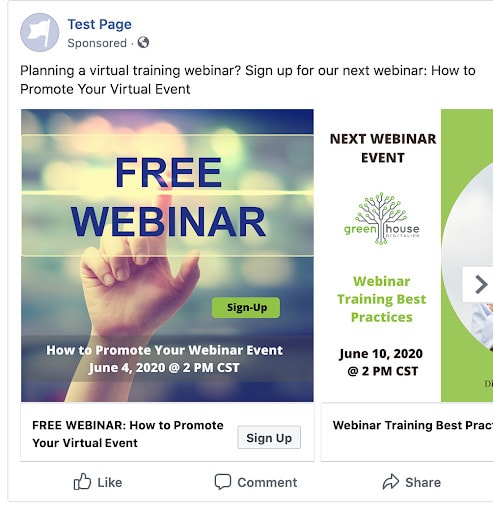 If your event is a recurring series, with new topics and panel discussions, be sure to include future dates in your organic posts and social media ads. Carousel ads are a great way to share additional information. You can post up to 10 images/videos in one ad with separate links to each event. This gives individuals who are unable to attend the current event the option to click on future events.
Choose your targeting wisely
Follow the standard rules of ad targeting. When choosing a cold audience (individuals who have never interacted with your brand), be sure to choose attributes similar to individuals you hope will attend your virtual event or training.
If using a Custom Audience, try to personalize your message more. They are most likely customers or individuals already familiar with your brand. A Custom Audience made from a customer list is a type of audience you can create to help build your reach. It's made of information, called "identifiers," you've collected about your customers — e.g., email, phone number and address — and provided to a social media platform.
If there is a fee to join your training/register, offer coupons or discount codes as an incentive for early-bird registration. This is also great for ad tracking and determining whether your social media ad drove sign-ups.
Be sure to use a vanity URL or landing page.
Create a vanity URL that you use only for a specific campaign type (social ads, PPC, email, etc). Because most webinar registration occurs off your site, it can sometimes be difficult to track. Vanity URLs can help more accurately pinpoint the sources of your sign-ups.
Events with a dedicated landing page have a higher chance of converting, because it is much easier for your visitors to find the information they need. Be sure to track your landing-page visitors using your CRM.
You can later create a custom audience to re-target those who visited your page or signed up for future offers.
Take advantage of social media event pages
Facebook offers the ability to create event pages. Here you can create private messages, updates, and calendars for your followers. They will be sent instant updates as well as a calendar link to sync with their phones.
You can later create a custom audience to re-target those who visited your event page or signed up for future offers.
Ready to host your first virtual event? GreenHouse Digital + PR can help you connect with potential attendees. Reach out to our digital marketing strategist to discuss your challenges and opportunities. Get started here.