Nathan Furr, Associate Professor of Strategy at INSEAD, and Susannah Harmon Furr recently published a book titled "The Upside of Uncertainty." It outlines how businesses can continue to thrive, even in a time of economic uncertainty.
In a time of economic uncertainty, how do B2B & B2C companies and organizations reframe their mindset from fear and loss to excitement and possibility?
Companies looking for solutions as uncertainty looms and budgets shrink tread towards a customary route. Employees looked at as "unessential" by the company may be let go, and more work gets shifted to the ones who stay. They may also begin to cut back on their marketing efforts, which inevitably leads to a significant loss of sales, revenue, and competitiveness as the company's market share shrinks. These losses in talent and market share are a boon to competitors who see the value of keeping talent and marketing, even in uncertain times.
As things pick up, companies that have continued to market at a high level have positioned themselves to thrive. In contrast, those who have recently paused their efforts will have to spend energy and resources trying to get everything restarted. What makes the difference?
Ambiguity
Most of us see progress on a linear route. So, dealing with it is crucial when things backtrack or take another course.
How does this present itself in the business world? An overreaction to issues at hand leading to a contraction in growth efforts is a very common reaction to uncertainty. The further you climb the ladder of success, the more you encounter uncertainty, ambiguity, and change.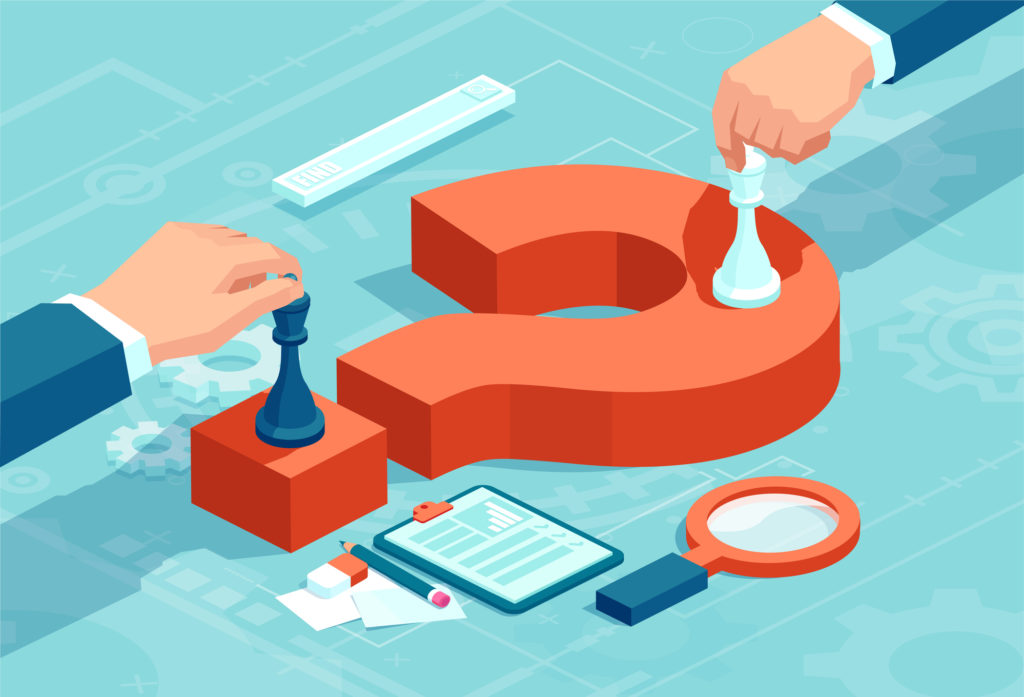 Sam Yagan, CEO states, "A predictor of executive success is how they deal with ambiguity."
After the pandemic shut down and all the fallout that followed, you may not feel safe with the same decision-making you did in the past. The business world and the rest of us felt a seismic shift. Now, many approach plans with a large amount of pessimism.
One can lean towards safe or known options when working from a place of fear and pessimism. Fearing failure and loss leads to working from a place of scarcity instead of abundance.
Just as we have all learned to be more pessimistic, we can also learn to be more optimistic. As Susannah Harmon Furr states, "…when we reframe uncertainty as the other side of possibility, we open the portal… to get to the other side."
How to reframe your mindset
Reframing your mindset begins with an organized plan that can stabilize you and pull you out of fear and uncertainty. A known entity, like any plan, can reset you and put you back on the path of what is possible. Your plan is something that you can refer to again and again anytime you feel ambiguity.
In business, that means having the right talent on board to support your efforts and creating or re-creating your marketing plan.
A flexible marketing strategy is a roadmap you can follow even if there is uncertainty and the route is not linear. Think about getting directions via Google maps. Usually, when you put in a destination, it will give you at least one alternative route. Having a goal in mind and a strategy for alternative routes instills confidence and optimism.
There are six steps to creating your marketing plan. Knowledge is power, so the first two steps, discovery and audit, will give you the knowledge you need to create your marketing strategy. These first steps may be the most important as you review and identify strengths and weaknesses. If you cannot completely remove weaknesses, try to diminish them by identifying strengths, making sure they are optimized, and building upon them.
The last four steps are the action steps. Once you have your plan, it is time to implement it, analyze it, and optimize where you need to. These plans are not static- they are dynamic.
The GreenHouse Digital + PR process has built-in flexibility so that anywhere along the route, there is the ability to go an alternative way, use creative thinking to solve problems, and continually optimize. Listed below are the six steps of the GreenHouse process.
Discovery
Audit
Planning
Execution
Analyze
Optimize
---
Anywhere along the path, we can audit and re-optimize for continued growth. If you would like to schedule your discovery call and succeed in a time of uncertainty, contact the talented team at GreenHouse Digital + PR!