Holiday shopping will be a lot different than in previous years. With much of the country still practicing social distancing and enhanced safety measures to protect the community and shoppers, most consumers are looking for new ways to make their purchases safely. With this in mind, many companies are hoping to increase their online sales. In order to do so, they must first invest in online marketing.
Before you begin, take a look at these important statistics on consumer behavior.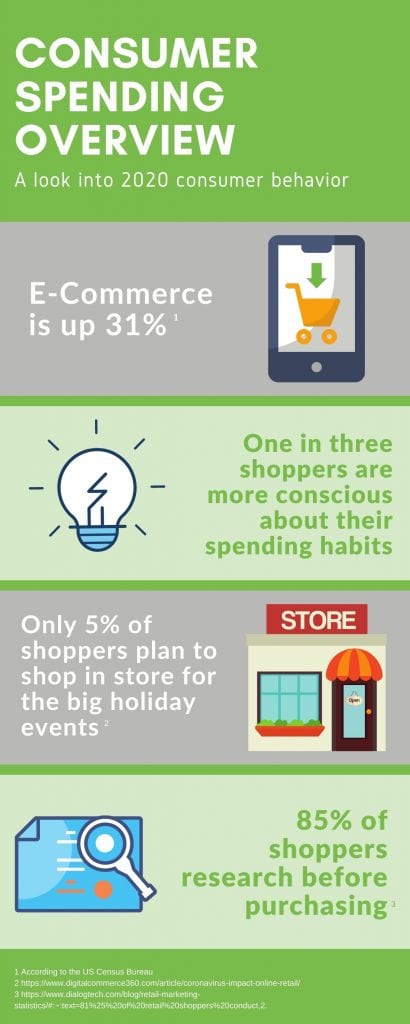 Plan Your Campaigns, Then Plan Some More
If you haven't already planned your holiday marketing strategy, stop what you are doing (after you read this blog) and get to it. Depending on the size of your company or partner agency, you need to determine how quickly you can produce quality marketing content. Typically, the actual "holiday" advertising season kicks off three weeks prior to Thanksgiving.
Once you know your timeline, you can begin planning your campaign. Start with these strategies:
Target Audience: Define your ideal consumer
In a previous blog, we shared how to create a buyer persona and incorporate it into your marketing strategy. You can check out the full article here.
Create a Budget
How much can you allocate to your campaign budget, aside from the cost of ad-campaign creation?
Key Messaging
What is the goal of your campaign? Are you trying to increase sales or push a new product or service? Even if you are trying to bring awareness that you offer curb-side pick-up, you need to define the message you want to use to attract your target audience.
Select Your Visuals
Just like the Sunday paper, the best ads are the ones that stand out the most. You want ads that will attract customers and draw them to your website or complete a call to action. You are up against pets doing cute things, selfies, and many other ads. You want to choose a medium, such as video or carousel images (typically the highest converting ad type), and keep it consistent with your branding and campaign messaging. This will help your target consumer more easily associate the image with your brand.
Determine Where You Should Advertise
This is one of the most important steps in the planning process. If you properly researched your target market, then you know where they are on social media channels. But, during a time when there is nearly a 40% increase in advertising traffic, you want to be strategic. Choose the best channels and spend more resources there, instead of spreading your ads thin where they can easily get lost among the competition.
If you can pull off completing all of this prior to launching your holiday campaign, use what extra time you have to strengthen your audience's behavior with AB testing.
The general rules of managing your holiday campaign after launching are about the same as any other time. Where you start to see the major difference is in planning. Prior to creating your holiday campaign, remember to research your audience, budget, create a key message, select your visuals and choose only the strongest channels to place your ads.
Need help with your holiday marketing campaign? Our team can help. Contact us.