Three noteworthy findings from Cision and PR Week's latest 2020 Comms Report, based on a survey of more than 300 marketing professionals
PRWeek partnered with Cision on a survey sent via email to both communications and marketing professionals in the United States. The 2020 Comms Report is an excellent rundown of the most important challenges communications professionals face today. It also offers valuable insights into critical aspects of content marketing and media relations that are easily overlooked.
We have summarized three of the most noteworthy findings from the 2020 Comms Report below. A total of 314 senior-level professionals, from agencies and in-house, completed the online survey, conducted by PRWeek between August 12 and September 14, 2020. You can access the full report here. 
1. Real-time media monitoring is the highest priority.
In order to ensure that actions are well-informed, decisive and impactful, comms teams need real-time intelligence. You need to know about, in real-time, any brand mentions across all platforms.
The PR Week survey results highlight this reality: 38 percent of respondents identified "real-time alerts from high-priority messaging" as their clear top earned media monitoring goal. No other option was chosen by even 25 percent of the survey pool.
Real-time monitoring becomes very important to ensure accuracy and that you are getting your message out. Comms teams also want real-time conversations happening with media contacts. Prompt responses to media requests and placements can have a significant impact on a company's or brand's relationship with the media. This, in turn, could result in positive coverage when you need it most.
Our agency reports high-priority media mentions on a daily, weekly, monthly, and quarterly basis. Using Cision and other media monitoring tools, we are able to offer real-time monitoring to our clients, ensuring that they can respond to mentions in a timely manner.
2. Online stories are the most effective at influencing consumer purchasing behavior.
Online feature articles are deemed the most effective at influencing consumer purchasing behavior, according to the report, scoring higher than seven other options, including social media posts, broadcast features and brand videos.)
Why? We like to think it's because "education is the greatest equalizer." A feature is a perfect way to educate an audience on key, but easily missed product features.
According to Helen Shelton, senior partner at Finn Partners, consumers are seeking richer, deeper content online. Better yet, via trade magazines, an online article can get that content in front of the professional readership you need to reach.
This is certainly true for trade professionals in the design and construction industry. Building, plumbing and HVAC contractors want to know how your product can solve their job-site problems. They are seldom interested in flashy and overly promotional content.
Nonetheless, "there is a place for all content, especially now with people having more time to discover things on the internet," suggests Shelton. "Every piece of content has the same potential to be shared."
Although online features can originate on mainstream media, Shelton notes that valuable content can also be found on owned media, such as a brand blog or a LinkedIn post.
Not only does GreenHouse Digital + PR develop content — features, case studies, and blogs — but we also work to find a home for our client's write-ups in relevant trade publications and then promote it on their social channels.
3. Journalists have the most impact on consumer purchasing behavior.
When it comes to the type of influencer who has the most impact on consumer behavior, mainstream journalists ranked at the very top, just as they did last year. While influencers and celebrities still play an important role in brand storytelling and in engagement strategies, it's their authentic community ties and proven track records of serving the interests of everyday people that matter most.
Have a close look at the graphics below…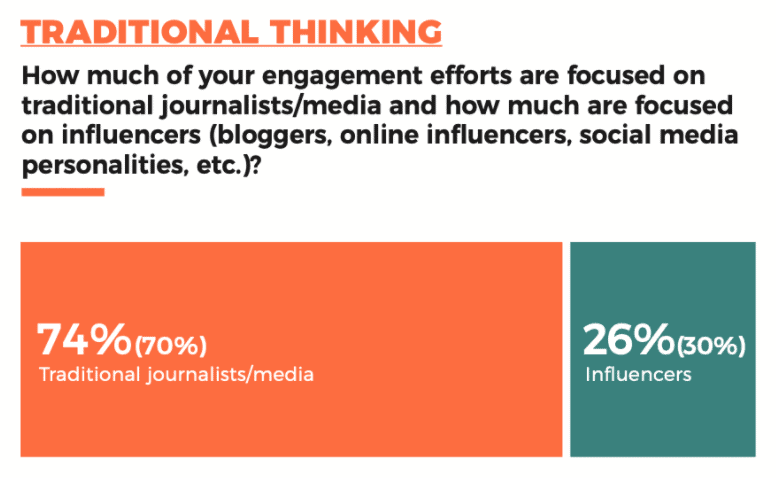 GreenHouse leadership has more than 20 years of experience in trade journalism and a proven track record in public relations. Our agency enjoys long-standing relationships with editors of top trade and consumer publications in the design and construction industry. These relationships have spurred coverage for our clients, resulting in thousands of print and online placements. Feel free to reach out if your own comms team could use professional assistance with content marketing and media relations.