(Updated 1/26/2022)
How does a B2B company measure trade show success? According to Forbes, most business-to-business brands measure trade show success by the number of sales leads and orders placed. 
To this end, brands utilize a variety of pre-trade show promotions designed to drive booth traffic: 
Prize raffles

Email blasts

Direct /dimensional mailers

Print advertisements

Promotional videos

Awards/contests  
But we want to focus on one tactic that has become increasingly popular and necessary: social media promotion. Leveraging social media is a cost-effective and powerful way to maximize your AHR Expo investment. It also gives you the ability to reach those who can not attend the event in-person.
Our social media managers suggest starting pre-show social media engagement and advertising about two months before the event. Starting your trade show advertising early will increase your potential reach and begin to establish your brand's USP prior to a booth visit.
Take a look at these 6 ways you can succeed at the 2020 AHR Expo with social media:
1. Create a social media lead generation ad.
Imagine hosting a party and not sending out an invitation. Trade shows work the same way. Have you noticed how active the AHR hashtag has been in the past couple of months? 
Social ads can deliver high-quality leads using such techniques as try-and-buy promotions, no-cost consultations or free samples.
Webinars, buying guides, market reports, infographics and blogs are all examples of lead generation content that can be advertised on social media.
Lead generation techniques help B2B brands bypass the gatekeepers and get directly to the decision-makers. 
Ads should drive visitors to a custom landing page that outlines how a brand's product or service solves a problem, overcomes a common hurdle or outperforms conventional systems. Include a contact form so visitors can schedule a meeting with you.  Oh, and make sure it's in a visually compelling, graphically creative format!
The next step would be to create a social media ad campaign to drive traffic to your trade show landing page.
Here's an example of our landing page for the trade show: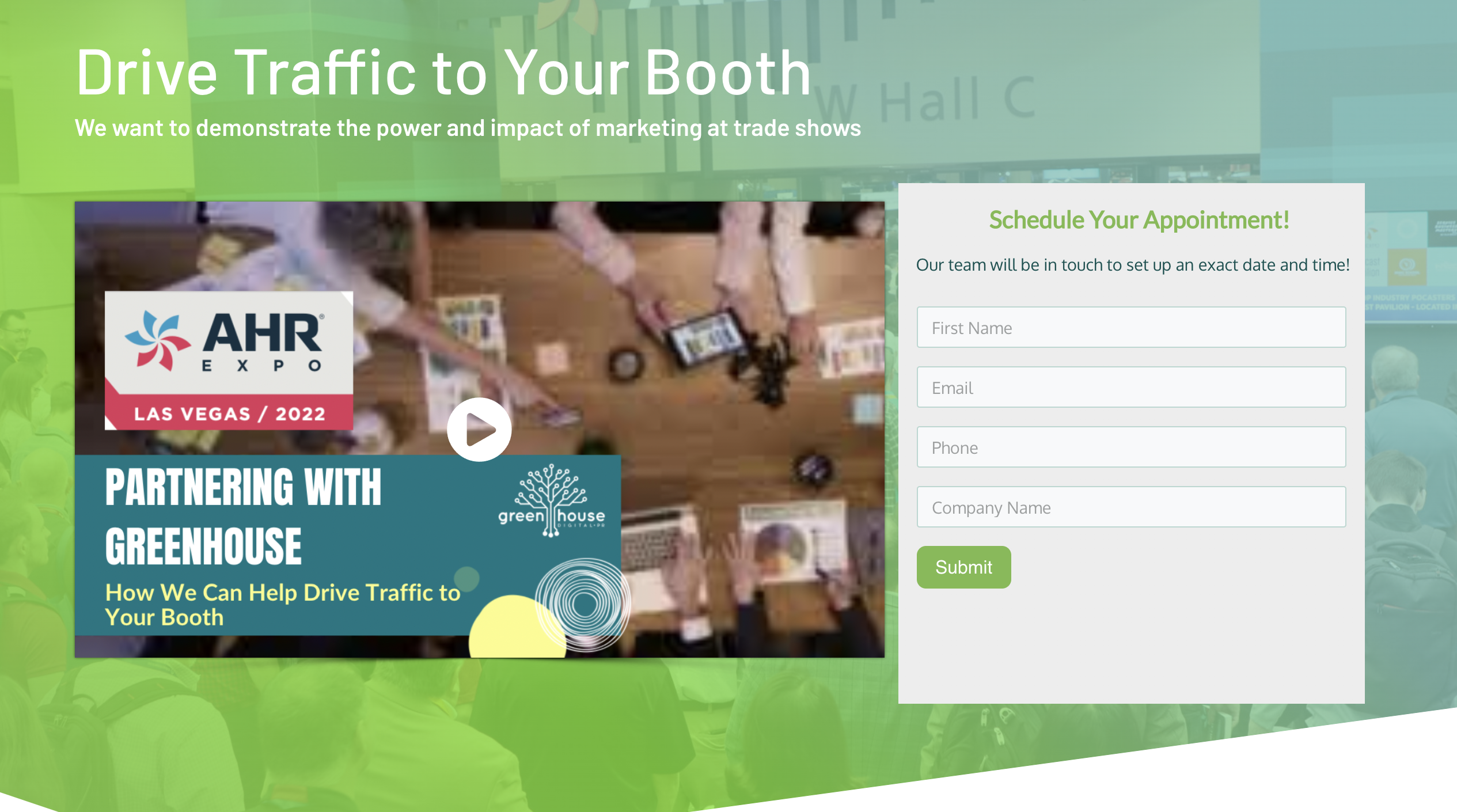 2. Have an employee social media takeover.
What is a social media takeover?
A takeover is simply putting a high-profile guest in a social platform's driver's seat. According to Hootsuite, a social media takeover involves granting posting privileges to a person of interest, like an influencer, expert, or professional. While takeovers are most popular on Instagram and Snapchat, they can be hosted on any social platform. Hootsuite offers a complete guide on how to run a social media takeover. 
This is a great way to increase awareness of your brand, open up new audiences and engage with your current followers. 
We're suggesting that you call on the biggest expert on your team to help build excitement before AHR attendees even walk through the door. This individual has to be an upbeat, marketing- or sales-oriented employee.
An employee takeover is a creative and fun way to connect with attendees and make them feel a part of your community. 
ProExhibits, suggests the following ideas for an employee takeover: 
Give your followers a behind-the-scenes look as you plan for your trade show.

For example, go live on Facebook or Instagram and give your audience a sneak peek into your booth design plan. 

Tease an upcoming product launch.

Launching a new product at AHR? This is an excellent opportunity for your brand to create some curiosity among your followers. Tease them with just enough information to convince them they have to visit your booth or follow your stories for the big reveal.
Here's an example of one of Buffer's employee takeovers.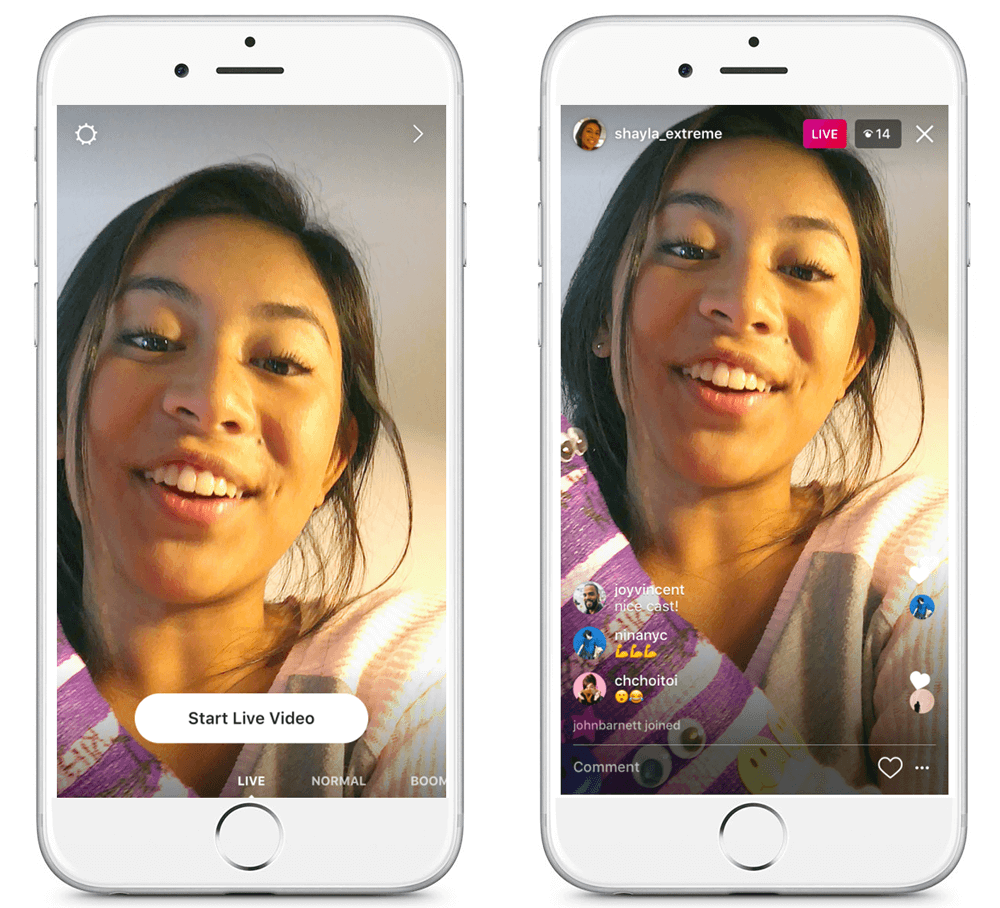 3. Build excitement with Gamification.
What is Gamification?
Smallbiztrends, defines gamification as a process for integrating game mechanics into something that already exists to motivate participation, engagement and loyalty. This can be almost anything, from your website to social media presence, day-to-day operations, customer engagement and more.
Your brand can use gamification to boost your booth traffic at the AHR Expo. Twitter would be the best platform to host your "game," because it's the platform that people are most likely to engage on while at AHR.
Here's an example:
Set up a social media ad campaign announcing you will use Twitter to do a "give-away" at AHR. To be eligible, people will first have to follow your page, and then tag your company in a tweet while they are at the trade show. Be sure to prompt them to use your company trade show hashtag (more on this in a bit), as well as the official AHR hashtag #AHRExpo22. Announce a winner or two every few hours to keep the engagement active. Tag the winners in a post. Once they come to pick up their prize, snap a pic and share it on your feed in real-time.
This is a great way to boost your visibility in the AHR Twitter feed and ultimately increase your booth traffic.
4. Follow trending hashtags related to the show.
One of the biggest ways to engage attendees is through the show hashtag. Be sure to follow the show hashtag to follow along with the conversation about the Expo.
Choose any hashtag for your brand, but be sure to include the show name (AHR). Creating a show hashtag for your brand is a great way to build anticipation, communicate show announcements, and allow attendees to connect with you. It's also important to promote your hashtag prior to the show by sharing it on social media, and using it in every post you make about the show, as well as including it in your show email campaign. 
Here's a look at how AHR Expo uses the official show hashtag: 
5. Live stream from your company page each day.
Live streaming on social media is a great tactic to introduce your products and services to people who are not able to attend the show. Since you now have to consider that prospects will not be on-site, this makes it even more important to stay active online.
Live streaming a new-product announcement on social media, for example, is an excellent opportunity. You can also use live streaming to invite attendees to your booth in real-time at the Expo.
6. Use geo-locators to send targeted messages.
Some platforms allow you to set an "electronic fence" around a specific location (say the Las Vegas Convention Center), so you can reach anyone in your location — whether you follow them or not. This is a great way to stay on top of the online conversation at the Expo. 
Geo-targeting ensures your posts reach AHR attendees. Check out Hubspot's guide to geo-targeting on all social media platforms here. 
Want to drive traffic to your booth at the 2022 AHR Expo?
Check out our EXCLUSIVE offer for AHR exhibitors.