Social media is an essential tool for your business that offers a way to provide great customer service.
Having an active social media presence is vital to your manufacturing business and essential for running a good marketing campaign.  With social media, you have the opportunity to reach, nurture, and engage with your target audience virtually.  No matter the location.  When businesses use social media to connect with their customers and provide customer service, their interaction can generate brand loyalty, leads, and sales.  Let's walk you through how to utilize digital platforms to create a positive virtual experience for your customers.
Engage in conversation with customers
It is extremely likely that almost all of your customers are going to be on a social media platform.  It's important for your business to explore all social media platforms to determine which one is best for communicating to your customers.  We recommend being present on all major social media platforms, like Facebook, Twitter, Instagram, and LinkedIn, at the very least.  When choosing which one your business should focus on, you'll need to consider your target audience and your social media objectives.  This will help you decide which one would be best for your business.  You can also read our recent blog on how to determine the best social media platform for your business here.
Once you're online and active, you will be able to start to engage with your customers and show them how much they mean to you!  This is the continuation of building authentic relationships with your customers even when you're not with them every day.  Sometimes, customers will post a good experience they had with your business or showcase your work in a picture.  Show your appreciation by responding in a timely manner.  One little response with a thank-you, like, or emoji can have a big impact.  It lets your customer know that you are listening.
The goal is to stay active on your platforms and responsive to your audience.  Having an active social media presence brings more engagement and provides the opportunity to gain customer insight.  By getting feedback online, you receive valuable information about their experience and level of satisfaction about your product or service.  This helps in understanding where there can be room for improvement for your manufacturing company.  Being active also increases your impressions and visibility on your platform.  This in turn, can lead to future customers and sales.
Handle customer complaints and concerns
If your company hasn't received a negative review yet, it most likely will at some point. No matter how excellent your customer service is or how well your products are loved, you just can't please all of the people all of the time.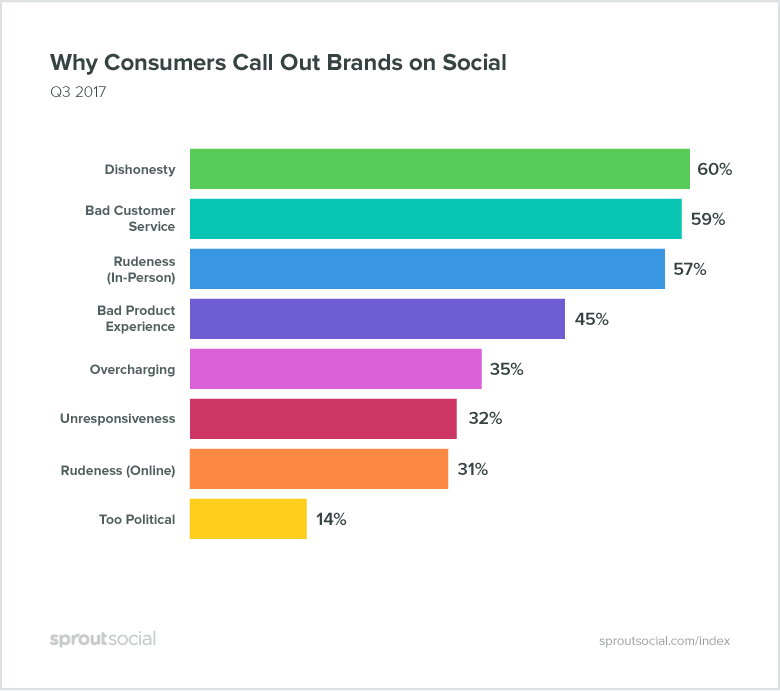 If your business has not received a negative review yet, it will most likely happen at some point.  When they choose to share their experience on social media, you will need to have a plan in place where you can handle that complaint right away.  Staying on top of negative comments will show your customers you are trustworthy and are listening.  It is vital to pay attention to this.  A lack of attention can contribute to a poor response, and will reflect negatively on your business.  After all, when your business replies to that comment, your entire audience will be able to see it.
We recommend responding to all comments, positive or negative, in a respectful way.  No response is also considered a poor response and can look like you are avoiding the issue.  Whatever the reason for why they left the review, people want to be acknowledged and heard.  Take the time to ask them why they were upset and how your business can help fix their issue or concern.  By doing this you can also learn something you hadn't considered in the process.
It's important to handle complaints and concerns right away. Not only do they impact your businesses online reputation, but it will impact your Google Local Listing rank.  Google has positioned its Google Local Listings above organic results, and just underneath Google ads in how you are ranked in the search engine.  The bottom line is, reviews are super powerful in today's online atmosphere and a negative review can cost you a lot.  It is worth taking the time to address such concerns where possible.  There is almost always something you can do about a negative review.
Update your customers
There are many reasons why you might need to update your customers.  What many manufacturing companies are dealing with right now is a shortage of product or a temporary price increase.  By keeping your customers in the loop on social media, you will be the one they look to for information.
When or if you make adjustments to your business, it's important to create a social post with any updated information.  This includes: hours of operation, delivery options or changes to your service,  updated website, or anything that disrupts the customer's buying cycle.  Be sure to pin the post at the top of your feed so it is the first thing your customers see when they visit your page. And while things can be hectic during this time, it is still important to keep your followers updated on your current business situation.  We recommend posting on your social media at least every other week with an update.
It is important to respond to every message regarding the update.  Answering questions or concerns can clear up any confusion or misunderstanding of the post.  This also gives your audience a place to look back on to find the correct answer.
As noted, social media has become a key platform for your business and providing virtual customer service.  If you are not on social media, you are missing out on the opportunity to build customer relationships and sales.  If you are on social media, continue to improve your customer service interactions. This will raise overall customer expectations and satisfaction with your business.
If you are looking for support for your social media and digital marketing efforts, contact our team of marketing specialists today!