There have been significant advertising budget cuts across industries the past few months as a result of the Coronavirus. Emarketer predicts a decline in search advertising spend of between 8.7% and 14.8% in H1 2020, which is about $6 billion to $8 billion less than originally expected. We're discussing why content marketing is the best next step.
Why are companies cutting search ad budgets? Because search is a lower-funnel ad channel that's typically geared toward driving conversions. Of course, many of those conversions can't happen right now because of quarantines, inventory shortfalls, and related problems.
Something to keep in mind: According to InfluencerMarketingHub's Coronavirus (COVID-19) Marketing & Ad Spend Impact Report, average global CPC (Cost Per Click) was down to $0.089 in mid-March, significantly below its previous 2020 low of $0.11 right after the new year. Pandemic-led marketing budget cuts have ultimately resulted in less competition for digital advertising inventory and lower costs.
Instead of completely terminating your search ads, it might be worth considering running digital ads to drive engagement and awareness. See how we can help you develop social media and paid search advertising campaigns to reach as many customers and potential leads as possible.
A look at Content Marketing through the Buyer's Journey
A key strategy right now would be to focus less on conversions and build campaigns to drive awareness. Your campaigns should be less about selling and more about educating customers and demonstrating how you can solve their problems. How? With content marketing.
Content marketing is one of the most effective methods of growing audience engagement, developing your brand presence, and driving sales. If you're not currently investing in search ads, now is a great time to focus on your content marketing strategy to drive organic traffic and nurture leads through the buyer's journey.
Let's take a look at some content ideas for each step of the buyer's journey. See how we can help here.
1. Top-of-the-Funnel Content (Awareness)
Buyers at the top of the funnel usually land on your website in search of high-level information about a specific product or service. The "awareness" stage is where people are looking for answers, resources, education, research data, opinions, and insight.
Content ideas to nurture top-of-the-funnel buyers:
Educational blog posts
eBooks
Industry research
Checklists
Infographics
How-to videos/articles
Educational webinars
Feature articles/thought leadership articles in trade publications
Guest editorials/blogs
Syndicated feature articles
2. Middle-of-the-Funnel Content (Consideration)
This is the evaluation phase for B2B buyers. It's the perfect time to build a relationship and establish trust by sharing educational content.
Content offers to nurture middle-of-the-funnel buyers:
Case studies
Buyer's guides
FAQs
Demo videos
3. Bottom-of-the-Funnel Content (Decision/Purchase)
Remember: Bottom of the funnel content only works if you present it to a lead you have nurtured through the buyer's journey.
Product videos
Product/training webinars
White papers
Spec sheets and brochures
How do you measure the success of your content marketing strategy?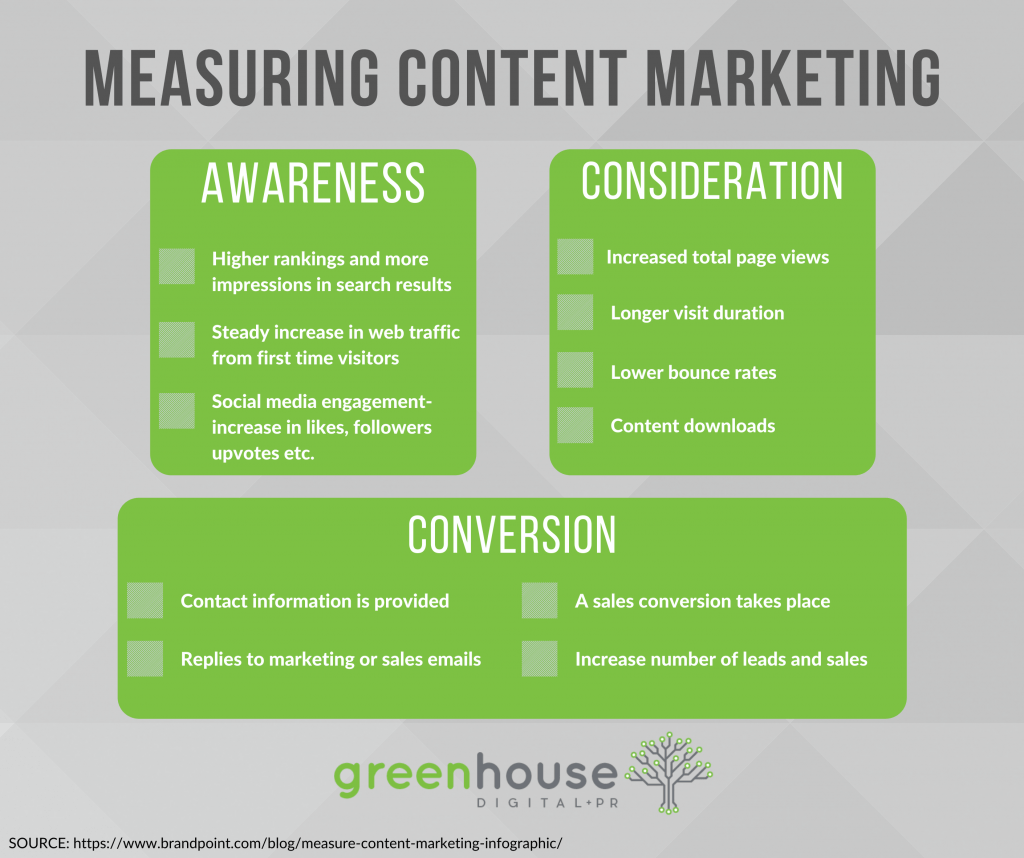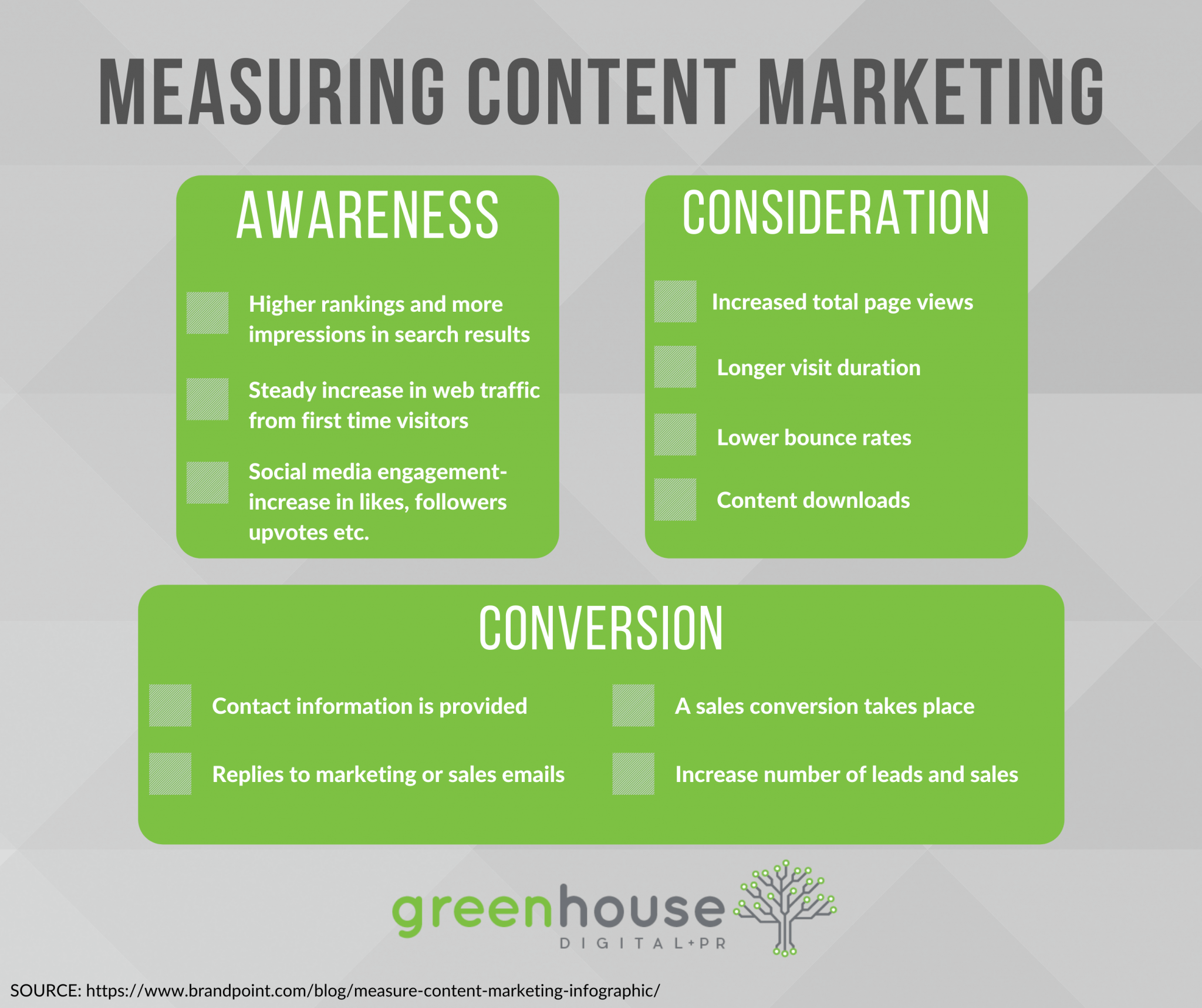 Let's talk about how GreenHouse Digital + PR can support your content marketing strategy.