SEO continues to get extremely technical and complex, even Google's engineers don't completely understand what their machine learning system is doing.
But on-page SEO such a critical element that you can't avoid having in your marketing strategy.
When people have a question about your building product or service, they generally search it in Google first, which is why you need to ensure that your company shows up where your audience is looking.
The key to ranking higher in search results is to provide a solid piece of content that deserves to rank for the right keywords. SEO professionals will often preach that if your content is valuable and truly informative, you have already done most of the work. Organic SEO can attract searchers seeking answers and control how your brand is seen in search results, or even nudge searchers towards queries you want them to make, but organic SEO does not work overnight— and that is very important to consider.
When optimizing your site and content for Google, there are many factors to look out for, one factor is on-page SEO. According to Moz, on-page SEO is the practice of optimizing individual web pages in order to rank higher and earn more relevant traffic in search engines. On-page refers to both the content and HTML source code of a page that can be optimized, as opposed to off-page SEO which refers to links and other external signals.
Let's take a look at 8 On-Page SEO Best Practices to help your brand rank higher and earn more relevant traffic in search engines.
1. SEO Title


A page's SEO title should be descriptive, compelling, and keyword-rich. Be sure to include the keyword you are targeting towards the beginning of your title and then add a modifier towards the end. Modifiers include words like buy, review, offers, and even the year.
2. Meta-Descriptions
According to Wordstream, a meta description is an HTML element that describes and summarizes the contents of your page for the benefit of users and search engines.
Your meta description acts as "organic ad text," meaning that when your page ranks for a keyword, Google and other engines will often show the meta description as a summary of the page. A meta description doesn't necessarily help you rank higher, but it does help to draw more clicks because it is a useful tool to explain to your reader why your content is valuable.
According to Hubspot, here's what makes for a good meta description:
Keep it under 160 characters, although Google has been known to allow longer meta descriptions.
Include your entire keyword or keyword phrase.
Use a complete, compelling sentence (or two).
Avoid alphanumeric characters like —, &, or +.
3. Headlines and Headers
Keep your headlines short and sweet at about six to eight words. People also respond well to numbers because it makes an article easier to read, for example, "5 ways to add luxury to your bathroom."
Write your headlines to get more shares. According to Ubersuggest, "How to…" headlines receive the most shares in the B2B space.
Headers, also known as body tags, refer to the HTML element <h1>, <h2>, <h3>, and so on.
Including these tags will help readers and search engines distinguish what part of your content is most important and relevant. You will want to incorporate target keywords in your headers, but choose different ones than what's in your page title. Put your most important keywords in your <h1> and <h2> headers.
To make it easier for users to share your content, add social media sharing icons to your page.


4. The first 100 words
Google heavily crawls the first 100 words of your content because the first paragraph usually explains what the article is about. The keywords you are targeting should naturally appear in the first paragraph of your blog or page.
5. Internal linking
Google's Robot crawls your sit page-by-page. Therefore, if you link your pages internally it allows Google to easily crawl your website and index every piece of content. For example, in our blog Creating landing pages that convert for your advertising, we interlink to another blog on Keyword Strategy.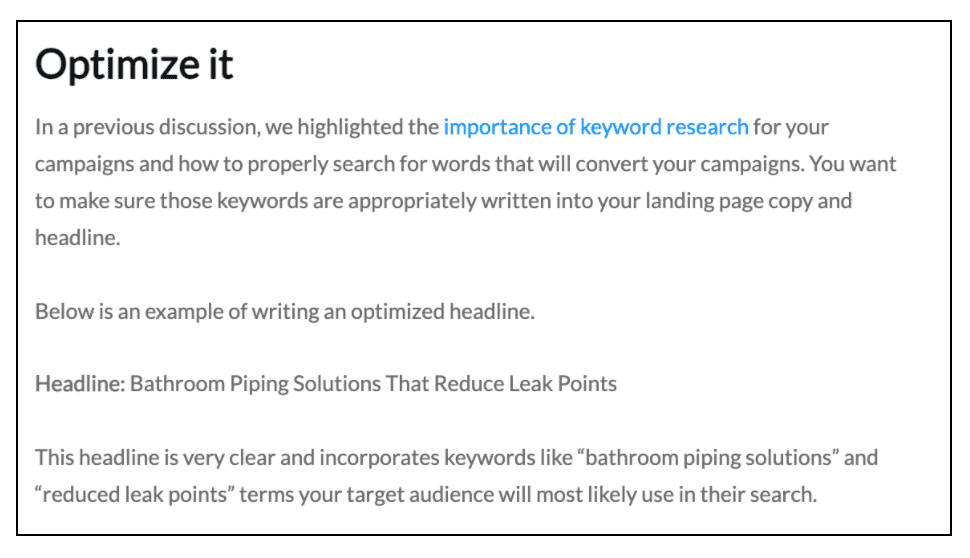 6. Keep your URLs short
Shorten URLs perform better and Google has actually stated that the first 3-5 words in your URL are given more weight. Add medium tail keywords to your URL. Always remove dates from your URLs in order to keep your articles relevant.
7. Readability
Your organic ranking relies on the readability of your content. If your text is hard to read your bounce rate will be much higher because people won't stick around.
Keep the following aspects in mind when writing content:
Use short sentences
Write in active voice
Use subheadings
Use images to break up large sections of text
Use quotes
Lists
Include call to actions
8. Optimize your images
Keep in mind that Google can't see your images. That's why it's important to use alt text to make the site more accessible to Google. Think SEO for your images! It tells the search engine site what your images are about, which is important because you may have already started to see more image-based results in the query.


For example, in this blog we wrote on Hosting a successful Facebook Live event, we use the following alt text for the images: "Successful Facebook Live event."
If you follow the above on-page SEO best practices, you are well on your way to increasing both the quality and quantity of your website traffic through non-paid search engine results.
Our team of digital marketing experts has years of experience in content development, Search Engine Optimization, and Search Engine Marketing. If you need help with your brand's SEO research or setting up a strategy, contact the GreenHouse team today to book a discovery call!