Position your marketing strategy for success.
For building product manufacturers, trying to get specified by architects may seem like an intimidating task, but it doesn't have to be. The key to becoming an architect's go-to resource is to focus more on building relationships with them than trying to sell your products. Marketing plays a big role in this. You will want to position your company as a leading expert on the product and provide all the information they need as they go through the marketing funnel.
When choosing products, architects rely heavily on recommendations from manufacturers they have an established relationship with, making it tough for new businesses to break in. Your goal is to convince the architect that your product is the look, quality, and price that they want. There are a few things you'll want to establish before reaching out to them. Let's dive into how to get your product specified for future construction projects. By implementing these ideas, you can position yourself as the first person architects and specifiers turn to when they need a solution.
Understand their needs.
What do they want in a product manager?
Architects are looking for building product solutions they can rely on. They want an expert guide on the product to help solve their problem(s). The best way to do this is to provide educational material that clearly explains what the product is, what it will do for them, how much it costs, and most importantly, grabs their attention. The messaging should be clear, to the point, and differentiated to the reader (the architect). This requires a lot of research.
Get started with audience research.
Audience research is crucial to creating a relevant marketing strategy for your product. You'll want to understand the buyer persona before creating content that connects to who you are talking to. Understand the roles, needs, and pain points when conducting your research. You can then outline architect goals and values related to their jobs.
By understanding the architect and where they go to get their information, you can start to determine the best way to reach out to them to spec your product. Like building products, there will always be new and improved ways to get yourself in front of your audience. As contemporary architects become more tech-savvy, you will need to adjust accordingly. A good practice is to continue to test your approach so that you can keep reaching the customer.
Make the relationship simple.
What will benefit your relationship? By being generous. Architects do not want to jump through hoops to determine if your product will work for their project. Make things simple for them by providing all the information they need about your product without having to talk to someone. Finding answers quickly with supporting reviews/testimonials will be a huge win for you and their confidence in your product.
Offer direct content.
Once you understand your audience and their needs, you can then start to create content that speaks directly to them.
Provide all the information.
You will want to provide all of the product information on your website. No one wants to sit and scroll through documents to determine if the product will work for their project. They'll click away if they can't find what they're looking for quickly. That's how fast the opportunity comes and goes. Having a clear and simple message that is easy to follow will be the best way to display your product's capabilities.
What are architects looking for on your website?
If an architect lands on your website regarding a product, they should be guided down a simple and aesthetically pleasing path that leads them to everything they need. Your website should offer different types of information and be made available in various formats. Some examples would include downloads, testimonials/case studies, videos, visuals, product specs/models, building codes, certifications, and design tools to interact with the product and its features.
Incorporate user experience.
According to TechJury, 52% of users say the main reason why they won't return to a website is aesthetics. Website design is crucial to winning your customers' satisfaction. Their positive experience will give you the credit you deserve and reflect upon your products. Let's show you an example of a positive user experience: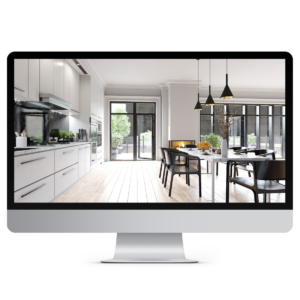 You are a manufacturer of high-end finishes for kitchen and bathroom fixtures. You want to showcase your products virtually and provide a showroom experience for your visitors. Without holding or touching the product physically, how do you convey quality?
You have two options. You can simply choose a catalog-style layout with high-end photos or you can create an interactive virtual showroom. Using a matterport-style video, visitors can "walk" through your showroom. They can walk up to the kitchen sink, click on the faucet, and see a 3-D rendering of your product. Alongside this would be product specs and an option to have samples sent to them.
The second option allows your user to better connect with the product. They have a better view of what it looks like, more information, and a better connection than they would have if they only looked at a flat photo.
Become an industry expert.
When you become an expert in your industry, people look to you to answer their questions. The way to do that is to convey that you are a problem solver through content marketing. Providing educational content on your website and social media is another way to get architects to view your products.
Because every project an architect takes is unique, your product will not be needed every time an architect encounters your company. However, what you can offer them is information that will educate them about your product category as a whole and not just your products.
By having a long-term marketing strategy, you will stay top-of-mind, continue to provide value, and become their go-to resource. All of which will lead to a sale and partnership. When it comes time to spec products, architects will look to you and your products because of the value you already brought to them.
Creating a lasting relationship with an architect is a long process. Having these foundational steps in place will make the initial outreach easier for you. Architects want trusted relationships with their suppliers. Content that educates and provides a simple message will help you get there. Provide that to them and watch your brand secure a spot on an architects' list of preferred products.
Creating a great marketing strategy for the building product manufacturing industry takes a team that is knowledgeable in marketing and confident working with the industry. If you are ready to start taking advantage of the benefits, GreenHouse Digital Marketing + PR can help!
We understand the importance of collaboration between Construction Manufacturers and Architects. Our team has the resources and experience to take your company's marketing strategy to the next level and deliver your desired results.