Having a lead generation strategy in place is fundamental to a business's success. But many businesses struggle to generate high-quality leads or even know where and how to start.
In this article, we break down the importance of lead generation for your business and provide practical advice on how to implement or improve your lead-generation strategy so you can start to effortlessly gain and nurture high-quality leads.
Benefits of lead generation
Helps you know your customer: B2B lead generation enables you to learn who your perfect customers are and where they spend their time.
Assists with content creation: Knowing your customer means that you can create content that is relevant and valuable to them.
Building brand awareness: Targeted content, correctly amplified online, will make more people aware of your company.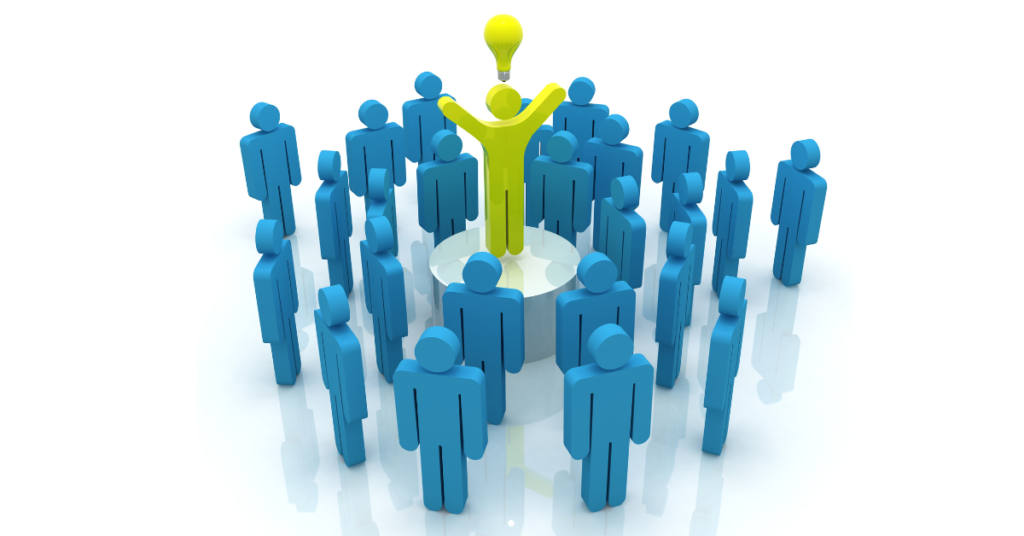 What is a lead?
A lead is a person who has inquired about your company's product or service. They initiated the conversation by submitting their information to you for specs on a product, finding out where they can purchase it, or if they have a technical question. It can even be someone that downloaded a helpful guide or attended a training webinar. However, a lead is not someone that came from a purchased list.
Understanding your lead's needs can give you a huge advantage when it comes to lead nurturing. You can indicate how likely the lead will convert to a sale by classifying them as warm or cold. A warm lead is someone who has already expressed interest in your company. The benefit to this is now you get to personalize the conversation and provide the best experience for them. A cold lead is someone who hasn't expressed interest. The source of these leads can vary, sometimes coming from an email list on the web, or simply from sales reps cold calling.
So what happens when they switch from visitor to lead? You qualify them. Which means you categorize them based on the lifecycle stage they're in. There are various types of b2b leads, but today, we're going to focus on three:
Marketing Qualified Lead (MQL): Marketing qualified leads are contacts engaged with your website, social media, or newsletter but are not ready to receive a sales call. An example of an MQL is a contact who fills out a form to receive a free guide on a topic related to your product or business.
Sales Qualified Lead (SQL): Sales qualified leads are contacts that have expressed interest in becoming a customer. An example of an SQL is a contact who filled out a form to ask a question about your product or service, might have inquired about where to buy your products, or visited a product or service page multiple times.
Product Qualified Lead (PQL): Product qualified leads are contacts who have used your product and taken actions that indicate interest in becoming a paying customer. PQLs exist for companies that offer a product sample or trial and have further engagement. *Que sales team*
Now that we have defined our leads let's discuss how to get them!
Building industry lead generation, where to begin?
According to Hubspot, lead generation is the process of attracting prospects to your business and increasing their interest through nurturing, all with the end goal of converting them into customers. Some ways to generate leads are through blog posts, newsletters, live events, and online content. Lead generation is an important activity for marketing and sales teams.
Lead Generation Process
Here are the steps of the lead generation process:
Visitors discover your business through marketing efforts, such as your website, blog, or social media pages.
They click on the call-to-action on the page –– an image, button, or pop-up message that encourages them to take action.
The CTA brings your visitor to a landing page designed to capture their information in exchange for an offer.
Note: An offer is something of value that's being "offered" on the landing page, like an ebook, product sample, or webinar. The offer must have enough perceived value to a visitor for them to provide their personal information in exchange for access to it.
Once your visitor fills out the lead capture form…voila! You have a new lead.
See how everything fits together?
How to Generate Leads: Methods that Work
Once you put all of these elements together, you can use your various promotional channels to drive traffic to your landing page or website to start generating leads.
But what channels should you use to promote your landing page or website? Let's talk about the front end of lead generation — lead gen marketing.
Content
Content is a useful tool to lead prospects to your product or service. When creating your company's content, keep in mind your target audience. You'll want to make free and useful information that will delight the user. Include CTAs to guide them to a landing page to learn more.
Email
Email is a great way to nurture a lead because you have a recurring opportunity for conversation. Having someone on your email list lets you stay top of mind for the prospect so they will think of you once a problem arises and they need help. When someone subscribes to your list, it's much easier to approach them with other material because they initiated interest. Ensure to include CTAs, compelling copy, and an easy-to-read layout to maintain the subscriber's attention.
Blog
The primary goal of your blog should be to drive traffic to encourage visitors to product-based sources further to better their understanding. These might include: learning more about your product offering, contacting your technical team, and downloading a sell sheet or brochure. Keyword research is essential to ensure you write on relevant topics your target audience is searching for.
Ads and Retargeting
Paid advertising can give your brand a boost in exposure. By adding ads to your strategy, you can target specific leads based on location, age, job role, and more. You can then create other custom and lookalike audiences to expand your reach even further. The more targeted your ads are, the higher the quality of prospects you will drive in. Be sure to have a landing page supporting the ad and a clear CTA. Oh, and don't forget to include a website pixel!
Social Media
Utilizing your social media platforms can make it easier to guide your followers to take action-– from your link in your bio to swiping up on your story; there are plenty of CTAs. You should also create content that is educational and relevant to your audience.
Product Samples
Offering a sample of your product can help you quickly get into your prospect's hands. The easiest way to do this is through your social media followers or connecting with an industry influencer. Prospects may share with others what they got for free via a social media post or word of mouth. Getting free stuff makes people feel valued, especially if they already know the company. Many repeat customers can be created through this.
Event Marketing
Marketing an event can be an excellent lead-generation tool. From attendees to no-shows, each registrant is a sales lead that should be followed up on. Whether your event is a physical or virtual space, it must start with a solid strategy. Plan out how you will handle marketing from pre- to post-event. With the help of some tips from us, you can make your events highly engaging in fueling your lead generation endeavors.
Lead Submission Funnel
What information should you ask for from a potential lead? When you collect leads, you want to get enough data for future outreach and to qualify the lead as a true prospect, but you also don't want to bombard them with ten questions just to receive the offer. The information you receive should cater to your specific needs, but here are some details you may aim to collect:
Name: To personalize your messages, you'll want to create spaces for first and last names.
Email: This one is a no-brainer –– you will need a way to get in touch with them.
Phone number: Only required if phone calls are part of your sales strategy.
Company name: This is important to understand how the lead might benefit from your product.
Role: Knowing their role will help you understand how to communicate with them.
Location: This will help determine which sales rep the lead will go to based on the area they are in.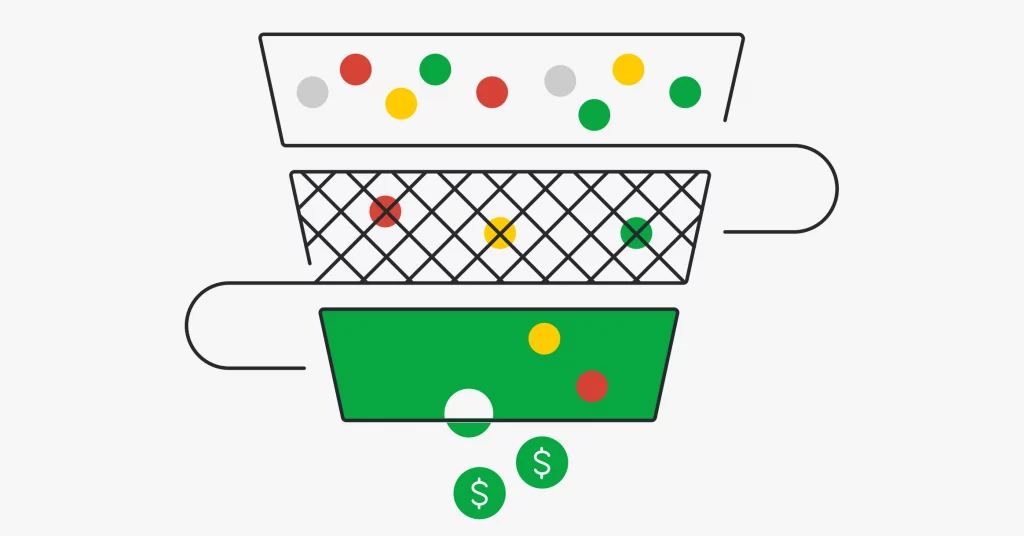 You don't need to require all this information at once, but you should strive to understand your leads better as you interact with them. When collecting their data, ensure you comply with your state data privacy law.
How do you get in touch with leads?
You've received a lead in your system, now it's time to start the conversation. You'll want to create a positive experience for the prospect and hope to solve what they are looking for. Here are a couple of reminders to ensure you communicate effectively:
Be mindful of the timing and frequency of contact. You don't want to get flagged as spam in their inbox.
Personalize your message and address them accordingly. Adapt the content you include to the type of lead that they are.
Solve their pain point by offering a free product trial or resource that can be useful to them. Make sure you are delivering value in each contact attempt.
Be ready to follow up more than once and try different ways of reaching out.
Find what strategy works best for you and continue to track the results in your CRM software. Be open to adjusting your strategy and performing A/B testing to fine tune your outreach.
Now that you know more about generating leads for your business, we recommend you check out our free guide to help you start reeling in new leads. We compiled the 30 greatest lead generation lessons to help you optimize your sales and marketing efforts.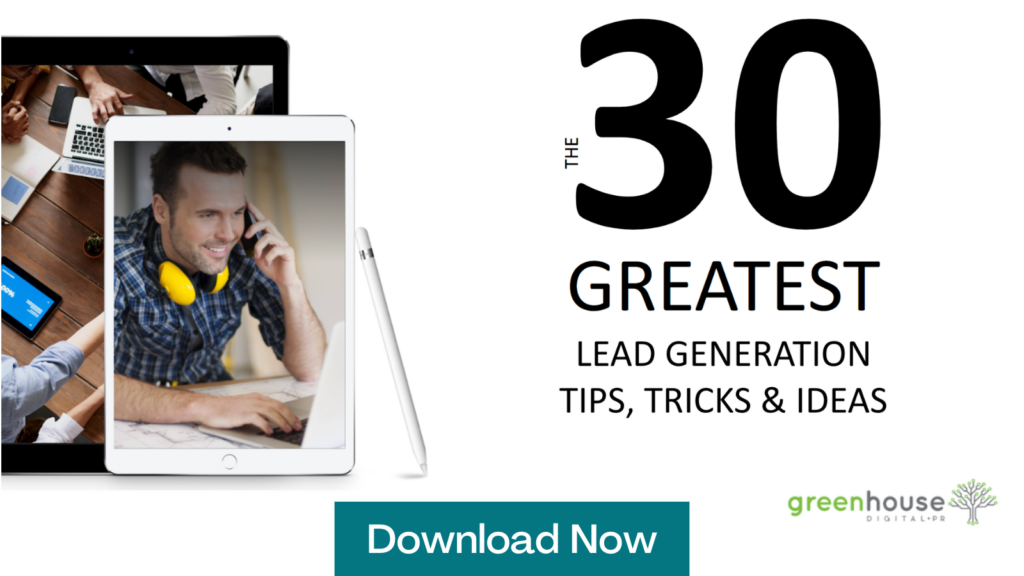 Our team has successfully provided B2B customers with tailored solutions to accomplish their business goals. Our services, including lead generation, lead nurturing, event promotion, digital advertising, and more, have been specifically designed to help solve marketing challenges. Contact us and book a discovery call to learn more about how we can help.