By now, everyone knows that social media is essential for a successful marketing strategy, but which platforms are the best for your company to utilize? With all social channels offering similar features, it is important to analyze which ones your audience will best respond to and which features will successfully market your product or service.
All of the currently popular social media platforms (Twitter, Facebook, Instagram, LinkedIn & TikTok) offer users a feed containing posts from those they follow. Another similar feature for channels is going "LIVE" and recording a live video for your followers to view in real-time.
The social media platforms your company shares content on should speak to your target audience, and you can carefully create a social media strategy using features that can help you reach them. Use your audience insights and target buyer personas to determine which platform and features to use. For details on how to build a buyer persona, refer to our informative guide.
Check out the top features of each major social media platform in the graphic below. Which would work best for marketing your product or service? Just because a social media platform exists, does not necessarily mean it's the best choice. Although Instagram has a valuable shopping tag addition, don't waste energy and money on a marketing strategy for that channel if your audience is not actively using the app.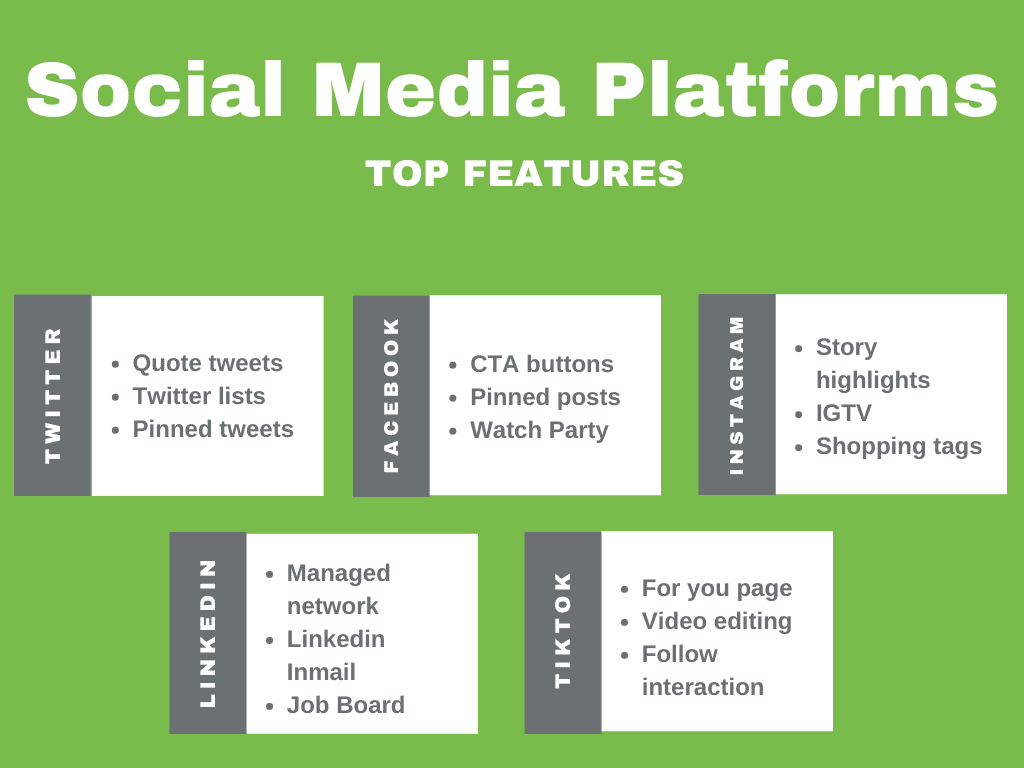 Top feature breakdown
Twitter
Quote tweets – Retweet educational user content and add your own language to the tweet, encouraging your followers to view or read. Interaction can lead to an interest in your company's services and future connections.
Twitter lists – Select specific users and create lists based on your relationship (or potential relationship). This can include competitors, clients, customers, trade publishers, home improvement influencers, etc.
Pinned tweets – Save your most valuable tweets to the top of your feed. As soon as a user clicks on your handle, this tweet will be the first thing they see.
2. Facebook
CTA Buttons – With Facebook Advertising, you have the ability to choose from a wide selection of call-to-actions for your ads. Make the action that you would like the viewer to take as clear as possible.
Pinned posts – As with Twitter, Facebook users have the ability to save the most valuable content to the top of their feed. As soon as a user lands on the company page, the pinned post will be the first thing they see.
Watch party – Have a video you would like to share with a Facebook group? Throw a watch party. This can be a great celebration tool for product launches or grand opening events.
3. Instagram
Story highlights- A popular feature on many social media platforms is stories – a post that appears for all of your followers and disappears within 24 hours. Instagram's "story highlights" feature allows stories to be saved to your profile indefinitely and organized into categories.
IGTV- Standard Instagram posts only allow for a maximum 60 second video, but with IGTV, users can upload longer content to their feed and have up to 10 minutes of video content for regular accounts and 60 minutes for verified accounts.
Shopping tags- With shopping tags, an Instagram account can become shoppable. Your followers can easily view products and buy directly from the app.
4. LinkedIn
Managed Network- Using a variety of filters such as location, job type, company, etc., easily break down your list of connections to locate a target audience.
Inmail- After targeting specific audiences through your network, you may run across industry professionals that are not a connection, but you would like to reach out to. Send a personalized message to an account that you are not connected with using LinkedIn's Inmail feature.
Job Board- Easily promote that your company is hiring and the details of the role. This social media channel is all about networking with industry leaders and promoting yourself/your company on a professional platform. This feature is the best way to showcase open positions and find new talent for your team.
5. TikTok
For you page- A "for you page" is the platform's feed of suggested accounts and relevant material based on video content that a user normally engages with. Using this feature can help you find industry-related trends and competitor content.
Video editing- This social media platform has an incredibly wide range of easy-to-use video editing tools to enhance creativity and stand out to your audience.
Dueting- This feature allows a user to respond to a video with a video of their own and have the two TikToks show up side by side while simultaneously playing. For example, if an account posts a video using your product, you can duet the video and record yourself watching the original and thanking your customer.
Ready to develop a successful and strategic social media strategy? Contact our team of digital marketing specialists today!